Hello all,
This is a little walkthrough I finally decided to post on now that I have completed the quest and can truly help anyone who wishes to work on it.
The end reward is a mask with clicky Spectre illusion from inventory!
I highly recommend this quest to everyone in the guild, it is alot of fun, one of the more funner lines I have worked on in EQ. Best of all it is ALL soloable by just about anyone who can solo in the first place. That also means it could be boxed but the best thing is the actual puzzles themselves you have to do alone. You do have to farm some things but overall NOT TOO BAD and quite fun in the process.
THIS CONTAINS SPOILERS IF YOU WANT TO DO THIS ON YOUR OWN I RECOMMEND YOU USE THIS GUIDE ONLY IF YOUR TRULY STUCK AND ARE AT YOUR WITS END!
#1 Names of the Sphinx
This mission requires you to go around to all the different sphinx in the zone and simply hail them.
Osinzuhazhfet - The pyramid very close to zone in, nothing sees invis inside, all stone golems. He is at the very top.
Mahatototarit - Outside, he is the sphinx which gives you the order and alignment puzzles.
Shelfezmaken - He is near the lake.
Akarahotuten - The large pyramid on the south, he is at the top.
Tekelfotonan - Right next to Akarahotuten.
Xanxionusus - He is at the bottom of the southern pyramid.
Vizhizshazid - Top of the western pyramid.
Rohtrepoten - Top of the western pyramid.
Yinihortinkah - Top of the middle pyramid.
Dezthazkekol - Top of the middle pyramid.
Kikinkoutepmozha - Top of the eastern pyramid.
Queltizenzumotif - Top of the eastern pyramid.
#2 Atiiki Tongue Twisting
This one requires you to turn in one scorpion stinger to Noble Sivrn, I got mine from soloing a scorpion in the zone, I guess I got lucky because he dropped my stinger on the very first kill, your luck may be different.
Once you turn the stinger in you get infinite trys to correctly pronounce the names of the various sphinx.
I did used a hint guide for this one myself but only because one of them is bugged and I spent like 45 mins trying to get it but couldnt then realized it was bugged!
READ ONLY IF YOU DON'T WANT TO TRY IT YOURSELF I RECOMMEND TRYING IT YOURSELF FIRST
You say, 'A`ka`ra`ho`tu`ten'
Noble Sivrn nods in approval.
You say, 'Xan`xi`on`us`us'
Noble Sivrn nods in approval
You say, 'Te`kel`fo`to`nan'
Noble Sivrn nods in approval.
You say, 'Ma`ha`to`to`ta`rit'
Noble Sivrn nods in approval.
You say, 'Shel`fez`mak`en'
Noble Sivrn nods in approval.
You say, 'Viz`hiz`sha`zid'
Noble Sivrn nods in approval.
You say, 'Roh`tre`po`ten'
Noble Sivrn nods in approval.
You say, 'Yin`i`hor`tin`kah'
Noble Sivrn nods in approval.
You say, 'Dez`thaz`ke`kol' (FOUR SYLLABLES!!!! BUGGED!)
Noble Sivrn nods in approval.
You say, 'Ki`kin`ko`u`tep`mo`zha'
Noble Sivrn nods in approval.
You say, 'Quel`ti`zen`zu`mo`tif'
Noble Sivrn nods in approval.
You say, 'O`sin`zu`hazh`fet'
Noble Sivrn nods in approval.
You say, 'I`sil`is`in`is`u`sur`pa'
#3 Order Squared
These next missions require you to turn in one token of either order or alignment depending on which puzzle you need to complete. For mission #3 you need to turn in one Token of Order (they drop from various efreeti inside instances or around the zone)
The object of this mission is to use the clues the sphinx gives you to arrange the order of the board to fit his clues. Everything must be exact.
Here is an example of what the board looks like, you simply hail an efreeti to make him move to the empty space. It is trickier than it looks, and might take you some time.
Here is the solution, only look at this if your truly stuck!
|
|
|
|
|
|
|
|
|
|
|
|
|
|
|
|
|
|
|
|
|
|
|
|
|
|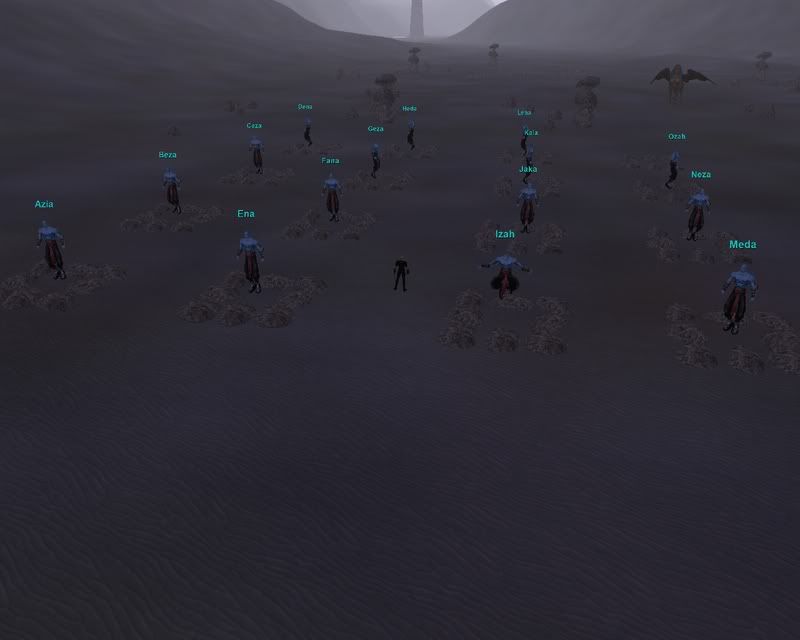 #4 Realign the Lines
This one requires you to do a totally different type of puzzle, you must solve 3 alignment puzzles to complete this mission. Each puzzle requires 1 token of alignment PER try and you CAN fail and you will fail quite often most likely.
The 3 puzzles are align 3, align 4, and align 5.
There is no way I can provide a screenshot solution because it changes each time you try it. I can however provide some very helpful clues.
The goal in each puzzle is to move the current alignment of genies from largest to smallest in whichever column it tells you. The trick is, you can only move a genie if he is the smallest in his column AND he will be the smallest where he moves too. This adds some trickyness to it. You only have a certain number of moves each time or else you will fail the puzzle. Align 3 and 4 are not too hard you should solve them without failing too much. Align 5 it takes about 31 moves to solve and one or two missed moves will cost you the game. It is by far the toughest puzzle in this series.
The best advice I can give is to really plan ahead, I used paper and pen and drew out the 3 columns and the genies and planned ahead.
Like I said though there are 3 columns and the genies will start largest to smallest in a random column and the goal will be to move them from that column to another column (random) but keeping the same largest to smallest alignment.
I will try to do some of these and perhaps post walkthroughs on them but really it isnt needed and align 5 would be so crazy to do that to I would salute anyone who did create a walkthrough for all the various possibilitys on align 5. But alas I am not that guy.
#5 Broken Lines
Now this one is interesting. As of me typing this after reviewing all my work someone has figured out a way to gimp this puzzle to making it easy.
I believe there is multiple ways to solve it and I might post the gimp solution at a later time but here is the way I did it.
First of all this is like a game of align 5 except at various numbers of moves taken he shifts the board as to cause chaos or help in some cases.
At move 15 he moves the biggest Genie (Gigias) into a column, and then several moves later he moves the 2nd biggest genie and so on.
When I did this I played it just like I would align 5 except I knew he would be moving the biggest genie and prepared the board for it. He moved right into the place I wanted then several moves later he moved the other genie, after those 2 only a turn or 2 later I won the puzzle.
It took me about 7 tries to figure this out but after I did I feel confident I could do it again. And someone has figured out a way to make this even easier but I feel it shouldnt be that easy.
Finishing
The last section of this series is not an actual mission at all but all clues.
your final reward for completing 5 is simply a platinum efreeti mask...no stats...no effects...nothing.
However the other efreeti next to Noble Sivrn will now speak to you. He asks you about platinum efreeti armor and asks to see yours. Every armor piece you turn in he provides you certain clues and if your paying attention is clues to an order puzzle. After writing them all down it did not take me long to figure out the configuration.
Once you figure out the combination Paza the lost genie from the board will spawn in front of you. If you are not wearing any efreeti armor he will not say anything important to you. One of the efreeti tells you the armor is a way of identifying genies so I assume by wearing the armor you identify yourself as one of them.
It requires you to have all 8 pieces (Chest, Legs, Arms, Hands, 1 Bracer, Boots, Helm, and the Mask) equipped, once you hail Paza he explains he came from the otherworld and hands you the reward which is a mask with clicky spectre illusion.
This is the solved order for getting Paza to spawn *SPOILERS BEWARE*
|
|
|
|
|
|
|
|
|
|
|
|
|
|
|
|
|
|
|
|
|
|
|
|
|
|
The individual pieces not all that rare, though they are RANDOM drops. Clearing a knowledge for power TBS misison #1 would net 2 sometimes 3 armor drops for me and other groupmates.
They also drop from non summoning genies in the uninstanced version of Jewel of Atiiki, so any kite class or boxer could easily do this solo.
I hope this has helped you all and GOOD LUCK, I want to see more Spectre Illusions.
Efreeti Death Visage
MAGIC ITEM NO TRADE
Slot: FACE
Charges: Unlimited
AC: 32
STR: +15 DEX: +15 CHA: +20 WIS: +15 INT: +15 AGI: +15 HP: +255 MANA: +255 ENDUR: +255
SV DISEASE: +20 SV COLD: +12 SV MAGIC: +12 SV POISON: +20
Shielding: +2% Spell Shield: +2% Accuracy: +10 Stun Resist: +2% DoT Shielding: +2% Regeneration: -2 Mana Regeneration: -2
Effect: Illusion Spectre (Any Slot/Can Equip, Casting Time: 5.0)
WT: 0.9 Size: MEDIUM
Class: ALL
Race: ALL